The Google Content, known also as the Google Content Network (you often hear the phrase "Google AdSense Ads"), is a collection of websites and other products maintaining a partner relationship with Google and which publish Google AdWords ads.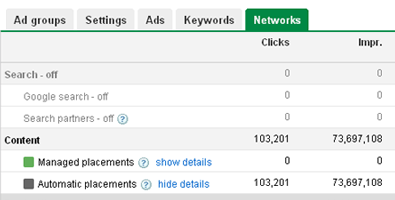 It's no secret that advertisers shun content advertising, primarily stemming from a mistrust of website owners who publish such (AdSense) ads. What Google has tried to do in order to draw such advertising methods to users, is to publish (research) documents containing actual data relating to the cost-effectiveness of the Google partner network.
What can be at times heard as advice, Google has confirmed — there is no need to fear the contextual network, but instead take care that the parameters are set up as required, and there is the need to avoid eventual problems (i.e., loss of money on clicks that are not relevant, fake clicks and so on).
However, so as not to remain solely at the information level previously provided, here is some new information:
Utilize the option to divide the campaign on placement and content campaigns.
Utilize the ability to "focus" campaigns using keywords, and adding negative keywords/sites in order to improve the quality of clicks brought about by the ads.
Use more of the different types of ads and test the best versions (for the content network it is important to monitor conversions, not the CTR!).
Naturally, what has been continually repeated has also bored me as well when writing on this topic is actual campaign monitoring — make the effort to properly track from where your customers are coming from, and the non-quality sites (get rid of them), and optimize your campaign based on the results your getting.
Finally, don't neglect the potential of contextual advertising, the fact that ads on Google Search account for 5% of traffic, while the remaining network covers 95% speaks well of the potential of contextual advertising…