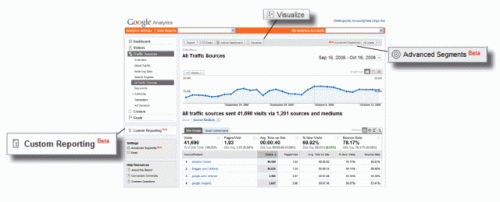 Analysis of conversions, leads and traffic is one of significant components of every SEO/PPC campaign, so it would be a shame not to mention new features of Google Analytics, which is surely one of the most popular applications in this field.
During eMetrics summit in Washington, after months of development and research, new functions were intoduced that will be gradually integrated into every user account. Modifications are being tested in 'beta' version, so certain new changes are not excluded…
Modifications are very significant:
"Facelifting" of user interface.

AdSense statistics integration.

Advanced visualization: Motion charts.

Custom reports.

Advanced segmentation.

Google Analytics API.

Automatic AdWords data import into Urchin.
Everyone who uses web analysis tools knows the importance of specific data and understanding of visitors, sources, behaviour and results of certain actions . In case you still don't have access to these new features, sneak peak is available on Google Analytics blog.